Open 24/7 Call anytime




(214) 436-2295
2nd Warehouse opened in Denton to serve Alliance Corridor (I-35W), Hwy 380, Decatur, McKinney, Gainesville, Sherman..and all points in between
SODA FAVORITES
Cold Refreshing Soda's to meet all your desires. We carry over almost every brand of soda they make. If it's available..we can likely get it.
Some examples:
7-Up
Apple-Cran Juice
Apple Juice
Caff. Free Coke
Caff. Free Pepsi
Canada Dry
Cherry Berry Juice
Cherry Coke
Coke
Cranberry
Cream Soda
Diet 7-Up
Diet Cherry Coke
Diet Coke
Diet Dr. Pepper
Diet Sprite
Dr. Pepper
Fruit Punch
Ginger
Grape Juice
Grape Soda
Grapefruit Juice
Hawaiian Punch
Iced Tea
Lemon Lime
Lemonade
Mountain Dew
Orange Juice
Orange Soda
Pepsi
Pepsi Free
Pineapple Orange
Root Beer
Snapple
Sprite
Squirt
TAB
Tomato Juice
PASTRIES & COOKIES
We carry all your favorite cookies and pastries. From Kellogg's Pop Tarts, to Mrs. Freshley pastries, to Grandma's cookies; we will make every attempt to carry your favorite product.
Some examples:
Apple Pie
Berry Pie
Blueberry Muffin
Brownies
Brownies w/nuts
Butter Crumb
Carrot cake
Cherry Pie
Chocolate Pie
Cinnamon Roll
Cookies
Cup Cakes
Ding Dongs
Dunkin Sticks
Fruit Danish
Fig Newtons
Glazed Honey Bu
Grandmas Cookies
Granny B Sugar Cookies
Ho Ho's
Lemons Pie
Lorna Doone
Mini Choc. Donut
Mini Powd. Donut
Nutter Butter
Oreo Cookies
Pecan Danish
Sandwich Cookies
Spice Muffin
Suzy Q's
Twinkles
Vanilla Wafers
Zingers
SWEET TOOTH
​
Looking for that sugar rush? We likely have your favorite candy bar.
Some examples:
3 Musketeers
1000 Grand
Almond Joy
Baby Ruth
Breathsavers
Butterfinger
Crunch
Heath Bar
Hershey Bar
Hershey Almonds
Hot Tamales
Jolly Ranchers
Junior Mints
Kit Kat
Lemon Heads
Lifesavers
M&M Peanut
M&M Plain
Mr. Goodbar
Mike & Ikes
Milk Duds
Milky Way
Mounds
Nestles Crunch
Pay Day
Reeses Peanut Cup
Reeses Pieces
Red Hots
Rolos
Skittles
Snickers
Starburst
Straw Twizzler
Sugar Babies
Tootsie Roll
Twix
Whatchamacallit
Whoppers
Zero Bar
BETTER FOR YOU
We have a wide variety of healthy alternatives..from Kellogs Nutri Grain bars and Mr Nature Trailmix to Welch's Low Fat Fruit Snacks.
Some examples:
Snackwells cookies
SouthBeach Bars
Special K Berry Bars
Mango Pineapple Mix
Raisin nut mix
Sunflower seeds
Yogurt Bars
Yogurt covered peanuts
Frito Lay Baked! chips
Baked Doritos
Sugar Free wafers
Granola Bars
Yogurt dipped granola
Peanut Butter dipped granola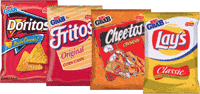 CRAVING CHIPS?
Lays Classic , Dorito Nacho, Cheeto Crunchy. We carry all the top selling chips and salty snacks.
Some examples:
Bagel Chips
Beef Stick
Beer Nuts
Cheese & Cracker
Cheese Nips
Cheese Popcorn
Cracker Jacks
Cheetos
Cheetos Puff
Corn Nuts
Cup a Soup
Doritos Nacho
Doritos Ranch
Doritos Taco
Fritos
Fritos Chili Cheese
Fritos Twist BBQ
Fruit Bars
Funyuns
Granola Bars
Gardettos Ranch
Gardettos Reg
Lays Reg
Lays Sour Cream
Lays BBQ
Miss Vickies Kettle
Pork Skins Hot
Pork Skins BBQ
Peanut Butter Cracker
Planters Peanuts
Popcorn Micro
Pretzels
Ruffles
Ruffles BBQ
Ruffles Sour Cream
Sun Chips
Sunflower Seeds
Trail Mix
Wheat Thins
JUICES & WATER
If you get tired of drinking carbonated soda we have a full compliment of non-carbonated products including juices, snapple and bottled water.
Ice Tea W/Lemon
Kiwi Strawberry
Mango Madness
Peach Tea
Raspberry
100% Apple
100% Orange
100% CranGrape
100% Ruby Red
Gatorade- Fruit Punch
Gatorade- Lemon Lime
Gatorade-Orange
Gatorade-Glacier Freeze
Gatorade- Grape
Gatorade- Cool Blue
Lipton Tea Lemon
White Tea
Green Tea
Pink Lemonade
..and of course bottled water